You Are More Than a Collection
of Symptoms.
When was the last time you felt
fully supported by your primary care team?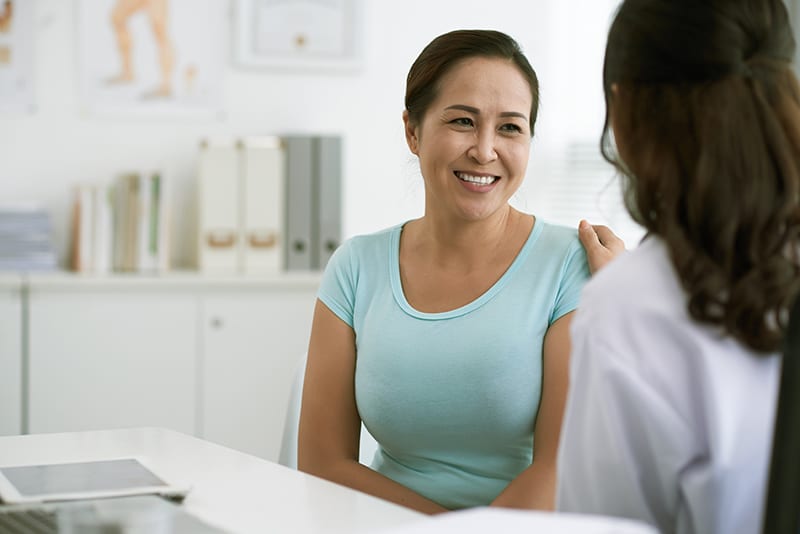 Conventional primary care models often rely on quantity of patients, not quality of care. At Essential Health, we take a different approach. We provide personalized care and 24/7 access to our providers who are dedicated to uncovering the root cause of your condition and bringing you closer to optimal health.
We believe good health care is more than just simply managing disease.
Move Beyond Your Typical
Primary Care Experience.
Our objective is to help you achieve the highest level of well-being possible.
We do this through:

Our Providers.
Our providers are among the select few who have completed additional rigorous education in this field – including certification and fellowship programs from the American Academy of Anti-Aging Medicine (A4M) and the Institute for Functional Medicine (IFM).
Our Programs.
Our programs are designed to do more than maintain the status quo. They are designed to address the underlying issues that are preventing you from optimizing your health. We help you develop a roadmap – first to a state of well-being, and then to health and longevity optimization.
We firmly believe in empowering you to achieve health and longevity optimization with lifestyle changes and non-prescription means whenever possible. However, we realize that sometimes conventional treatment is required to support you while moving toward a more functional approach to better health.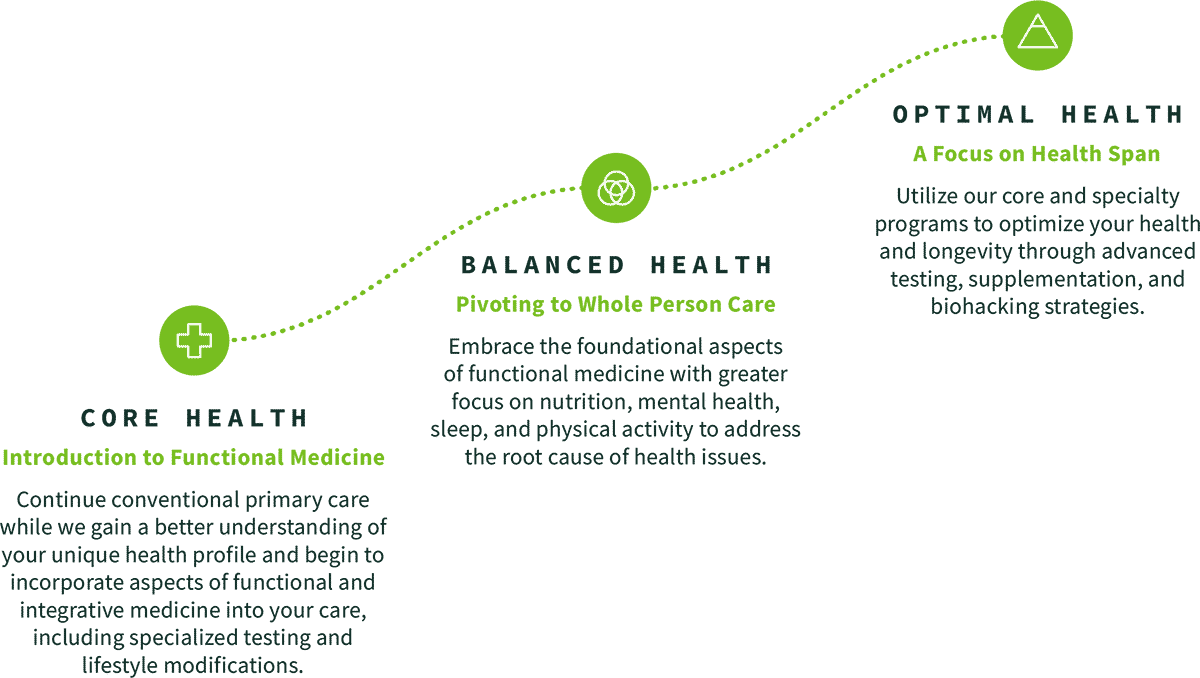 What to Expect.
Developing your roadmap towards
optimal health

.

ESSENTIAL HEALTH
ASSESSMENT
All new clients begin with an Essential Health Assessment. This assessment takes a deep dive into your current health status, including health history, biometrics, functional exam, diagnostics, physical exam, and extensive lab testing.

FOLLOW UP CONSULTATION & PERSONALIZED PLAN
You will then be scheduled for a follow-up consultation to review the results of your Total Health Assessment and create a personalized plan. The follow-up consultation will usually take place within two weeks of your assessment.

ONGOING SUPPORT TOWARDS
OPTIMAL HEALTH
Enroll in our subscription-based primary care program and enjoy the benefits of comprehensive and personalized care year-round.
IMPORTANT TO NOTE: We do not accept or bill insurance.
Essential Health services are provided on a cash basis. We do not accept, nor do we bill health insurance.
Essential Primary Care
Subscription Benefits.
Essential Primary Care clients enrolled in a subscription-based program enjoy many benefits including:
Your Journey to Optimal Health
Starts Here.
Request a Meet & Greet with a member of our team
Programs and pricing may vary by location.
OPTIMIZING HEALTH & LONGEVITY • OPTIMIZING HEALTH & LONGEVITY • OPTIMIZING HEALTH & LONGEVITY • OPTIMIZING HEALTH & LONGEVITY • OPTIMIZING HEALTH & LONGEVITY
Essential Insights
Featured Blogs